Statistics and Falls

Falls in Wisconsin
Wisconsin ranks fifth in fall-related deaths in the United States. That is more than twice the national average (CDC-WISQARS_2016). In 2016, 1,366 Wisconsin residents, age 65 and older, had a fall that resulted in death.
2016 Fall Related Deaths in Wisconsin by Age
Reference: WISQARS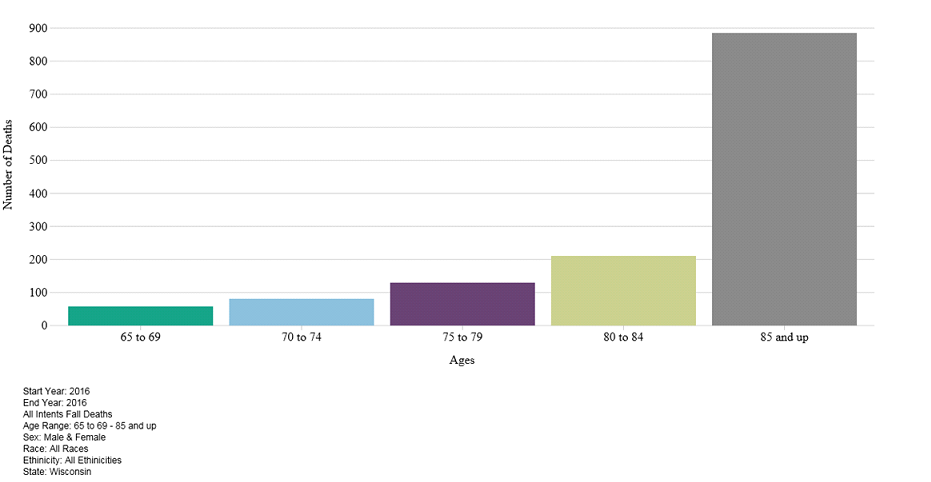 Falls in the United States
One out of four adults, age 65 and older, fall each year but less than half talk to their health care provider about it.
Every 11 seconds

, an older adult is treated in the emergency room for a fall.
Every 20 minutes

, an older adult dies from a fall.
More than 95% of hip fractures among older adults are caused by falling, usually by falling sideways.
One out of five falls causes a serious injury such as broken bones or a head injury.
Falls result in more than 2.8 million injuries treated in emergency departments annually, including over 800,000 hospitalizations and more than 27,000 deaths.
Many people who fall, even if they are not injured, develop a fear of falling. This fear may cause them to limit their activities leading to reduced mobility and loss of physical fitness, which in turn increases their actual risk of falling.
Two-thirds of those who experience a fall will fall again within six months.
At least one-third of falls among adults, age 65 and older, involve environmental hazards in the home.
Adjusted for inflation, the direct medical costs for fall injuries are $31 billion annually; hospital costs account for two-thirds.
Additional Facts
Older Adults Falls: A Growing Danger (CDC Fact Sheet)